Solar Trade Association Membership
How to join the Solar Trade Association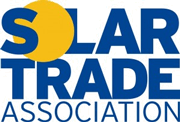 The Solar Trade Association (STA) is the leading voice for the solar industry in the UK. With over 425 corporate members it is by far the largest and most influential trade association in the sector. Its strength comes from its wide membership base ranging from large manufacturers through to distributors and installers.
The STA is of particular relevance to any organisation with an interest in Solar PV or Solar Thermal, and particularly those involved in the design, manufacture, installation, maintenance or distribution.
Key membership benefits include:
Access to industry experts providing advice on the market, regulations, certification processes and technical support
Access to market research studies (Tracking industry trends, central source of information for PV)
Access to online library of STA reference documents and related material
Referrals from the STA website enquiry service
Network with industry stakeholders and the wider building construction industry
Opportunity to influence future Government policy and standards
Training and education advice
Discounted rates to attend STA, REA and other UK industry conferences and exhibitions
You are kept informed of important developments via a weekly newsletter.
Regular member meetings provide an excellent opportunity to network with other members from the industry as well as associated professions.
REAL Assurance members will receive special rate for companies with fewer than seven employees and an annual turnover of less than £500k.
For more details please go to:
http://www.solar-trade.org.uk/joinTheAssociation.cfm