The Applications Panel
The Renewable Energy Consumer Code Applications Panel
The Renewable Energy Consumer Code has appointed the Applications Panel in line with the Bye-Laws. The Bye-Laws provide that the Applications Panel should comprise at least 3 Panel Members, the majority of whom, including the Chairman, should be Independent Panel Members. They may also be Supervisory Panel Members. The Applications Panel decides whether an applicant should be admitted to the Code on the basis of evidence placed before it and in line with the Bye-Laws, Guidance and Terms of Reference.
Sarah Chambers
Chairman of the Applications Panel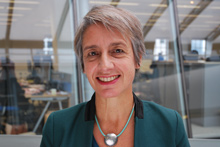 Sarah Chambers is Chairman of the Applications Panel. Sarah is an expert in consumer and competition policy. She is currently a Panel Member of the Competition & Markets Authority, a member of the CAA Consumer Panel, the Judicial Appointments Commission and Bar Standards Board. She was previously a Director in the Department of Energy & Climate Change, and Director of Consumer & Competition Policy at the Department of Business Innovation & Skills, following a spell as Chief executive of Postcomm, the postal services regulator.