---
Mole Energy Ltd wins prestigious Installer Award
Posted: 13 June, 2019. Written by Virginia Graham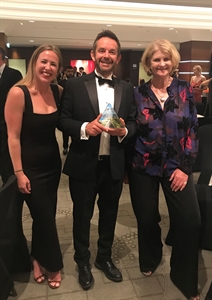 Mole Energy Ltd was voted Installer of the Year at the British Renewable Energy Awards Gala Dinner on Tuesday, 11 June at the Intercontinental Hotel in London.
The Installer Award is for a company that has excelled in the installation of small-scale energy generation systems in homes, offering a high quality experience for consumers wishing to buy or lease. The Award was sponsored by RECC for the fifith year running.
David Stevenson, Director of Mole Energy Ltd, accepted the Award on behalf of his colleagues. He is seen here with Rebecca Robbins, Head of Compliance, and Virginia Graham, Chief Executive, at RECC.