---
New Heat Pump Guide to support UK Industry
Posted: 14 July, 2020. Written by Rebecca Robbins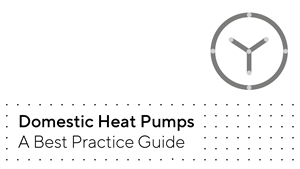 Some of the UK's most experienced clean energy experts have joined forces to create a new guide for domestic heat pump installers. This new heat pump guide creates a single source of best practice guidance to support the UK heat pump industry.

The Guide has been collaboratively crafted by MCS in partnership with Renewable Energy Consumer Code (RECC), Energy Saving Trust and Heat Pump Association (HPA). It streamlines advice by providing a single source of best practice on technical guidance and consumer protection.
Published this week, it is designed to support heat pump installers solve technical and contractual problems. With it, installers can easily deploy best practice solutions and processes in a compliant and legal way. It sits alongside the MCS Heat Pump Standard and will support MCS certified installers with every aspect of the design, installation and commissioning of heat pumps.

The transformation of domestic energy will play a significant role in achieving 2050 net zero targets with heat pumps playing an increasingly important role in delivering low carbon domestic heat. Publication of the Guide is timely in light of Government's low carbon heat spending announcements last week.

Ian Rippin, CEO of MCS said:

"With the market for heat pumps likely to grow significantly, it is important that consumers have confidence in the products that will be installed into their home. Building consumer confidence in low-carbon heat is critical to aiding market growth. Building that trust depends on both technical expertise and contractual best practice. So, we welcome this new Guide which provides all this support to installers in one place."

The contractual section of the guide examines every aspect of the consumer journey with a focus on the performance claims that underpin contract agreements. It was written by consumer protection specialists who have audited hundreds of companies installing small-scale renewable heat technologies.

Virginia Graham, CEO of RECC said:
"Designing and installing heat pumps systems requires considerable skill. Providing consumers with accurate information about an unfamiliar heating technology is vital but challenging. So, I am delighted that installers can now find accessible guidance on the whole process in one place. I commend it to our members."

Mike Thornton, CEO of Energy Saving Trust said:
"If government plans for decarbonising heat are to be realised then there will need to be a significant increase in low carbon and renewable heat options including heat pumps. However, it is vitally important that these technologies are installed effectively so the benefits for the end users including householders can be realised. We believe the application of this guide will go a significant way to ensuring this happens and we encourage all suppliers to use it".

The Heat Pump Guide is now available in the MCS Standards and Tools Library online.

ENDS
NOTES TO EDITORS

MCS
www.mcscertified.com
With energy costs constantly rising and climate change affecting us all – low-carbon technology has a bigger and bigger role to play in the future of UK energy.
We're here to ensure it's a positive one.
Working with industry we define, maintain and improve quality – certifying products and installers so people can have confidence in the low-carbon technology they invest in. From solar and wind, to heat pumps, biomass and battery storage, we want to inspire a new generation of home-grown energy, fit for the needs of every UK home and community.
Energy Saving Trust
www.energysavingtrust.org.uk
Energy Saving Trust is an independent organisation dedicated to promoting energy efficiency, low carbon transport and sustainable energy use. We aim to address the climate emergency and deliver the wider benefits of clean energy as we transition to net zero.

We empower householders to make better choices, deliver transformative programmes for governments and support businesses with strategy, research and assurance – enabling everyone to play their part in building a sustainable future.
Link to Heat Pump Guide: https://mcscertified.com/wp-content/uploads/2020/07/Heat-Pump-Guide-Final-17.06.20.pdf