---
RECC celebrates five years of Alternative Dispute Resolution with CTSI
Posted: 9 July, 2020. Written by Virginia Graham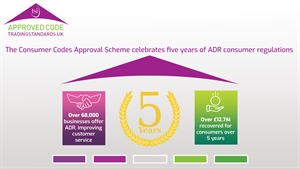 RECC's dispute resolution process is approved by Consumer Codes Approval Scheme (CCAS) under the Alternative Dispute Regulations (ADR) consumer regulations. RECC is pleased to celebrate this important anniversary with CCAS and the £12.7 million recovered for consumers during this this period.
The ADR Regulations were launched in 2015 to create better relations between consumers and traders, and encourage dispute resolution without going to court. Over the past five years, over 68,000 UK businesses joined the scheme. In April, a report revealed that CCAS now protects almost £135bn of consumer transactions, a 62% year-on-year increase.
By assisting consumers and businesses, ADR helps both avoid costly court proceedings and enables them to reach an agreement more quickly. Consumers gain access to a clear dispute resolution and ADR procedure. Businesses are regularly audited and monitored to ensure they comply with the high standards set by their CCAS-approved Consumer Code and consumers enjoy protection above and beyond their regular consumer law rights.
CTSI Chief Executive, and Interim Chair of the CCAS Board, Leon Livermore, said: "ADR has proved
vital for strengthening the relationship between UK consumers and businesses. I am proud of CCAS' achievements over the past five years, and I look forward to its continuing growth and development as we come out of the coronavirus lockdown, and over the next five years."
Further Information: