---
RECC welcomes launch of new Consumer Codes Approval Scheme
Posted: 18 June, 2013. Written by James Beard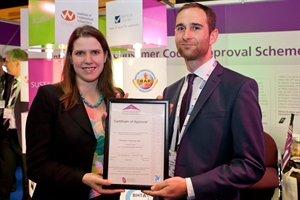 New scheme will help build consumer confidence
The Renewable Energy Consumer Code (RECC) welcomes the official launch today of the Consumer Codes Approval Scheme (CCAS), which is run by the Trading Standards Institute (TSI) [1]. The CCAS is being launched today at the TSI Conference in Brighton [2]. The TSI's launch statement includes a case study from RECC.
RECC, which is run by Renewable Energy Assurance Ltd (REAL), is one of only a handful of Codes approved under the CCAS. RECC's aim is to guarantee a high quality experience for consumers wishing to buy or lease small-scale energy generation systems for their homes.
RECC Chief Executive Virginia Graham said:
"We are delighted to be going forward in partnership with TSI in the 'new consumer landscape' that we are now part of. We are confident that we can successfully build on the many synergies we have with enforcement agencies around the UK and learn from our future association. So we are stepping into the new era with confidence and optimism.
"As we move forward into this new era we salute the long association we have had with the OFT since we first started to draft the Codes in December 2005. Since then the OFT has provided us with wise counsel and strict evaluation. This helped us rise to the immense challenges we have faced as the small-scale renewables sector grew out of all recognition during those seven intervening years."
Notes to editors
Renewable Energy Assurance Ltd carries out a range of certification and consumer protection activities, all of which promote sustainable energy. REAL's activities fall under two headings: consumer codes and certification schemes. REAL was incorporated in 2006. It is a wholly-owned subsidiary of Renewable Energy Association. For more information, see: www.renewableenergyassurance.org.uk

The Renewable Energy Consumer Code was set up by the Renewable Energy Association. Our aim is to guarantee a high quality experience for consumers wishing to buy or lease small-scale energy generation systems for their homes. The Renewable Energy Consumer Code logo is a sign that the company has agreed to abide by the high standards set out in our Consumer Code. For more information, see: www.recc.org.uk
The Trading Standards Institute assumed responsibility for the Consumer Codes Approval Scheme from the Office of Fair Trading on 1st April 2013. For more information and to read today's CCAS launch statement, including the RECC case study, see: http://www.tradingstandards.gov.uk/extra/news-item.cfm/newsid/1180

For more information on the TSI Consumer Affairs and Trading Standards Conference and Exhibition 2013, see: www.tradingstandards.gov.uk/events/conference2013.cfm?frmAlias=/conference2013