---
Solar Power UK teaches installers a lesson
Posted: 20 October, 2011. Written by Virginia Graham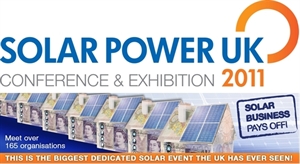 Opening its doors from the 26-28 October, Solar Power UK 2011 will give installers the unique chance to assess all the opportunities of the UK solar sector under one roof.
Solar Power UK 2011's extensive three-day conference programme will provide professional advice from leading technical training providers, PV and solar thermal companies and suppliers to help attendees better understand the benefits of the UK's growing solar sector. Virginia Graham from REAL will discuss -The Road to Integrity – Avoiding the 'Cowboy' Cliché. Ray Noble from REA/STA will look at the likely new FiT and how installer can cope with drastic cuts.
Over 140 leading manufacturers and wholesalers of PV modules, inverters and balance of systems will exhibit at this full-to-capacity venue, offering the UK installer community the opportunity to assess the best technologies for their upcoming projects.
PV school 201 on Wednesday the 26th of October has been specially designed for newly accredited MCS installers. It will be exploring which technology choices are best, how to monitor, maintain and safely operate systems and further assist REAL members in growing a viable installation business through better system design practices.
Exhibition attendees can choose from a range of solar PV and solar thermal workshops! At just £15, workshop tickets also come with full three day access to the exhibition.
Installers can choose from the following FREE workshops included in an exhibition ticket.
Solar PV
Joint forces for solar- UK PV briefing and networking forum
Wagner Solar workshop- How to mount PV correctly
First Solar PV workshop: How to mount PV correctly
Solar Thermal
Wagner Solar Thermal workshop: An introduction to Solar Thermal
STA seminar: Solar Thermal – Policy, Performance, Skills (small upgrade fee)
You can book for the event online at www.solarpowerukevents.org or contact the organisers at info@solarpowerukevents.org or on Ticket line: 0207 871 0122