---
Solar Together calls on solar PV installers to register interest in new schemes
Posted: 26 June, 2019. Written by Virginia Graham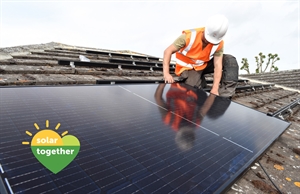 Building on the success of its recent solar PV installation schemes in London and the East of England, Solar Together has announced it will launch further schemes across the UK in September. These schemes will, for the first time, include battery storage where appropriate. iChoosr, specialist in group buying schemes, will partner with local authorities in the North, East and South of England to offer good value systems to local domestic consumers.
Installers with the capacity to deliver high volume domestic installations are invited to register their interest before 16 August here: www.ichoosr.co.uk/suppliers and begin the qualification procedure. Installers must be MCS-certified and a member of a CTSI-approved Code such as RECC. Once they have satisfied the strict quality control criteria successful installers will be invited to take part in an auction as a result of which the prices will be set.
For further information about taking part in the scheme contact Ruud Frijstein, Project Manager, Solar Together UK, on ruud@ichoosr.com or +44 2035144667.